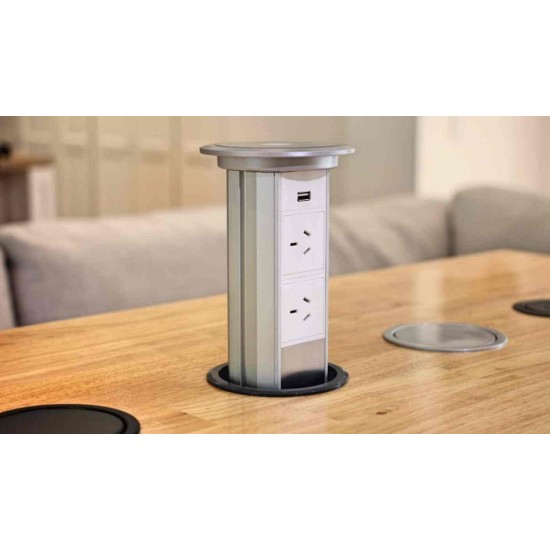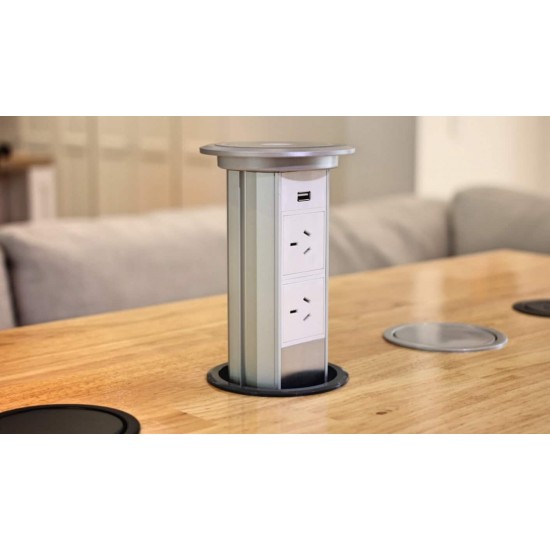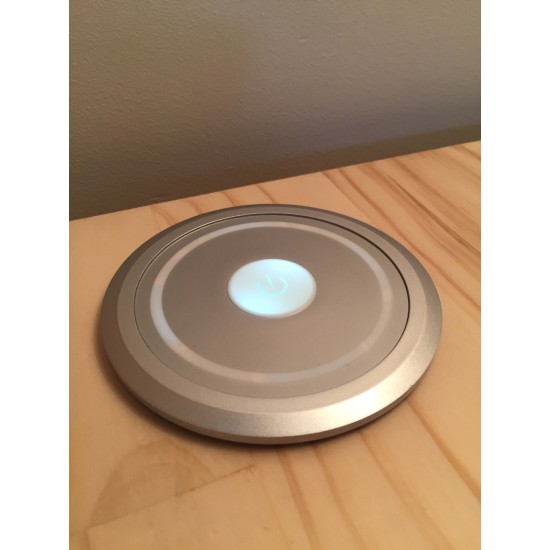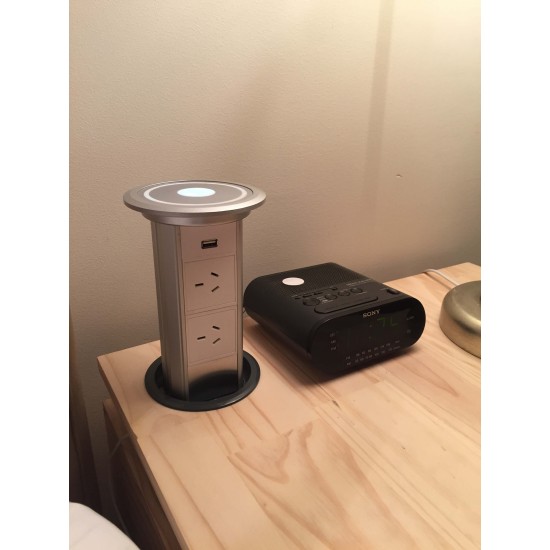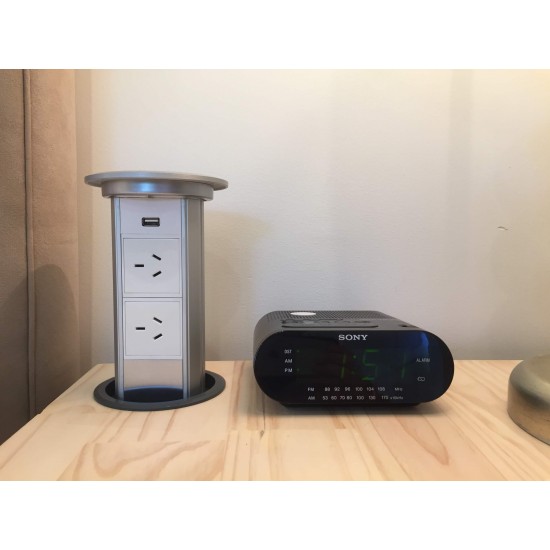 Motorised Pop Up Power Point
Recommended for: Kitchen / Office
It's the finer details that set the best homes and offices apart, there are many decisions to make when building or renovating your home or office – wall and carpet colours, tile designs, tap styles etc. It's very time consuming. Many people won't even give a second thought to their electrical installations. They assume there is nothing aside from the standard white plastic wall outlet.
_x000D_
Nothing could be further from the truth.
That's why MPS pop up power points are revolutionising the way we access power in our kitchens, offices and other spaces. The days of searching for the perfect power solution are gone. Charge multiple devices simultaneously, quickly, simply and neatly with convenient Australian standard power points USB charging ports capable of charging most USB charging devices. Featuring a slim and compact design, the V3 is sure to set your space apart.
_x000D_
Product Information:
_x000D_
Model: V3M Colour: Silver, White LED Material: Refined Hardened Scratch-Resistive PVC Plastic
Warranty: 12 Months Australian Warranty – Lifetime parts & repair service
Installation Hole Size: 100-105mm Diameter [102mm for best fit]
Space required below surface: 400mm from top of surface, 100mm in diameter
Module Configuration: 2x Australian Outlets, 1x USB charging outlets [2.1a power]
Cable Length: 2.15m
Waterproof Rating: IP65 when in the closed position
_x000D_
Installation Instructions:
The MPS "V3M" Pop Up Power Point is simple to install. A hole with a diameter of 102mm is required in the desired installation surface. The unit can then be fitted to the hole and plugged into a standard power point underneath the bench top surface. The unit is then ready for immediate use – No professional help required!
_x000D_
Package Content:
_x000D_
1 x AU Motorised PUPP
_x000D_
FAQ's [Frequently Asked Questions]:
_x000D_

Q. Is this model spring-loaded and does it automatically come up?
_x000D_
A. Yes, this unit is automatic. The built-in electric motor allows the unit to come up by the push of a button.
_x000D_
Q. What happens if I have a fault with my unit after the warranty period of 12 months?
_x000D_
A. We've designed and tested these units for use over 25 years withstanding in a normal working environment. If you do have a fault, we provide an affordable repair service, generally less than $35 [including postage both ways], and our repair staff can fix your unit within 3 days [within Australia]. For example, if you drop something heavy on the unit, and the shell dents heavily, the cost of repair is $30, and we give you the postage label to send it back to us, and we return it to you within 3-5 days. We always keep all spare parts, for all our models, so we will always be able to fix every issue.
_x000D_
Q. Do you provide after sales-service, and how do I contact you?
_x000D_
A. For many online businesses, both domestic and international ones, after-sales service is poor. We reply to 98% of customer emails within 24 hours, and we work to resolve each of them as soon as possible. We are based in Australia, and are easy to deal with. You can contact us via phone – through our 'request a call back' feature, where you give us your name and phone number, and we ring you back as soon as we are available to, within 24 hours.
_x000D_
Q. Do I need a licensed electrician to install this product?
_x000D_
A. No, no electrical work is needed to install this product. We have designed the unit with a standard Australian plug, allowing you to plug the unit into any other power point [below your installation surface]
_x000D_
Q. What is the warranty that is included with the product, and what is the process that is involved in making a warranty claim?
_x000D_
A. We include 12 months warranty. If your product malfunctions within 12 months, we will repair or replace it for you free of charge. We will cover both [2-way] postage costs, and repair or replace the unit within 5 days. We keep digital receipts matched with product serial numbers for every order, so don't worry about keeping the transaction receipt. All we require for a warranty claim is a confirmation of your name, address and an approximate date of purchase. From this, you will need to pack the unit securely, and we will send you a prepaid postage label to stick onto the unit. You will then be required to drop the unit off at an Australia Post retail outlet. Once we receive the unit, we will match its serial number with your receipt, and repair the fault, then send it back to you between 3-5 days.
Unlimited Blocks, Tabs or Accordions with any HTML content can be assigned to any individual product or to certain groups of products, like entire categories, brands, products with specific options, attributes, price range, etc. You can indicate any criteria via the advanced product assignment mechanism and only those products matching your criteria will display the modules.
Also, any module can be selectively activated per device (desktop/tablet/phone), customer login status and other criteria. Imagine the possibilities.
Stock:

In Stock

Model:

OZ-V81-V3M

Weight:

3.00

SKU:

OZ-V81-V3M