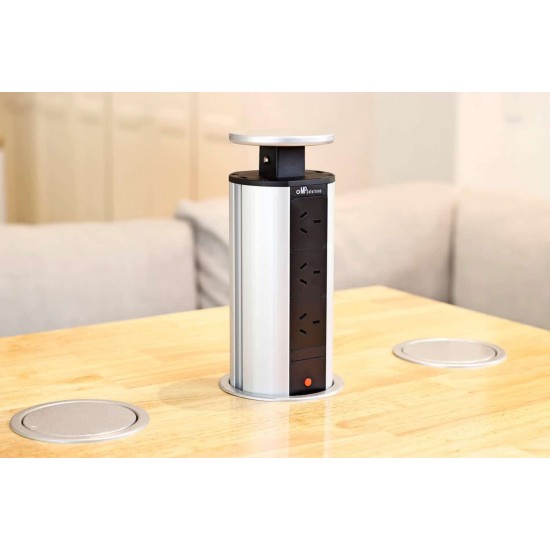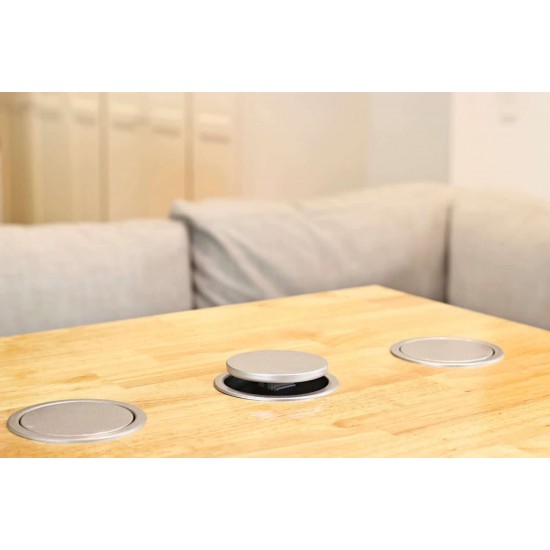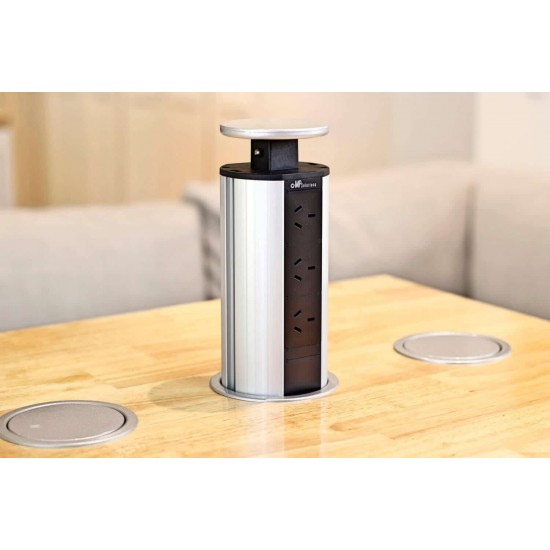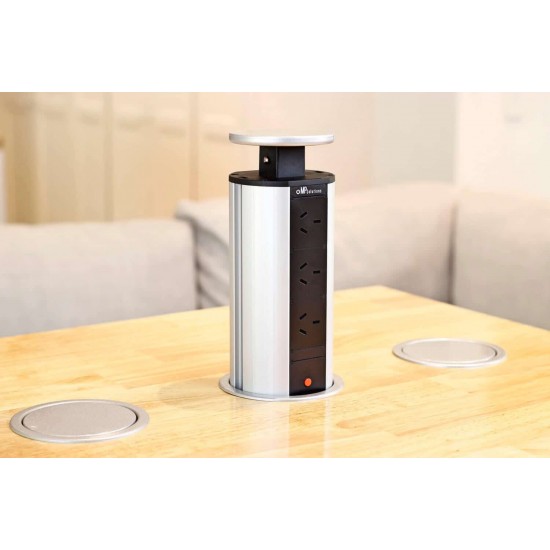 Dual-Sided, Black Face, Pop Up Power Point
Recommended for: KitchensWhen designing our homes and offices, we are faced with decisions about the smallest of details as indeed it is the trifling aspects of modern spaces that set them apart. When it comes to deciding on electrical fittings however, most people don't look any further than the white plastic plug assuming that's their only option. That's why MPS pop-up power points are revolutionising the way we access power in our kitchens, offices and other spaces. The days of searching for the perfect power solution are gone. Charge multiple devices simultaneously, quickly, simply and neatly with the convenient Australian standard power points located around the unit. Featuring a unique and vibrant design (Available in an array of colour options), the V6 is designed for larger families, or those homes which entertain frequently and require an extensive supply of power. Utilising a double sided system, the V6 is there for you whether it's to charge mobile devices or to help cook up a storm. The V6 is sure to set your space apart. Tech Specs:
_x000D_
_x000D_
Model: MPS V6GSBO6
_x000D_
Colour: Glossy Silver [Top], Silver Shell, Black Coloured Outlets
_x000D_
Top Material: Refined Hardened Scratch-Resistant PVC Plastic
_x000D_
Warranty: 12 Months Australian Warranty - Lifetime parts & repair service
_x000D_
Installation Hole Size: 100-102mm Diameter [102mm for best fit]
_x000D_
Space required below surface: 330mm from top of surface, 100mm in diameter
_x000D_
Module Configuration: 6x Australian Outlets, 1x Overload Protector
_x000D_
Cable Length: 2.15m
_x000D_
Cable Type: H05VV-F [3x 1.5mm2]
_x000D_
Plug: XH022B [250V 10A]
_x000D_
Degree Of Protection: IPX0 [against harmful ingress of water], IP2X [against access to hazardous parts and
_x000D_
against harmful ingress of solid foreign objects]
_x000D_
Rated Voltage: 240V~
_x000D_
Rated Current: 10A
_x000D_
Technical Model: V2SebNetPUPP
_x000D_
_x000D_
Installation: The MPS "V6" Pop Up Power Point is simple to install. A hole with a diameter of 102mm is required in the desired installation surface. The unit can then be fitted to the hole, and plugged into a standard power point underneath the bench top surface. The unit is then ready for immediate use – No professional help required!
_x000D_
FAQ's [Frequently Asked Questions]: Q. Is this model spring-loaded and does it automatically come up?
_x000D_
A. No, you are required to pull the unit up manually out of the surface to allow it to 'pop up' and be ready to us. We have other motorised models that enable the unit to come up automatically at the puck of a button.
_x000D_
Q. What happens if I have a fault with my unit after the warranty period of 12 months?
_x000D_
A. We've designed and tested these units for use over 25 years withstanding in a normal working environment. If you do have a fault, we provide an affordable repair service, generally less than $35 [including postage both ways], and our repair staff can fix your unit within 3 days [within Australia]. For example, if you drop something heavy on the unit, and the shell dents heavily, the cost of repair is $30, and we give you the postage label to send it back to us, and we return it to you within 3-5 days. We always keep all spare parts, for all our models, so we will always be able to fix every issue.
_x000D_
Q. Do you provide after-sales-service, and how do I contact you?
_x000D_
A. For many online businesses, both domestic and international ones, after-sales service is poor. We reply to 98% of customer emails within 24 hours, and we work to resolve each of them as soon as possible. We are based in Australia and are easy to deal with. You can contact us via phone - through our 'request a call back' feature, where you give us your name and phone number, and we ring you back as soon as we are available too, within 24 hours.
_x000D_
Q. Do I need a licensed electrician to install this product?
_x000D_
A. No, no electrical work is needed to install this product. We have designed the unit with a standard Australian plug, allowing you to plug the unit into any other power point [below your installation surface]
_x000D_
Q. Does this product meet Australian electrical standards?
_x000D_
A. Yes, we have tested and certified all our products to meet SAA standards in Australia. Our test reports and certificates are available to you on request. Send us a message if you would like a copy.
_x000D_ _x000D_
Package Content
_x000D_
1 x V6GSBO6: Dual-Sided, Black Face, Pop Up Power Point
Unlimited Blocks, Tabs or Accordions with any HTML content can be assigned to any individual product or to certain groups of products, like entire categories, brands, products with specific options, attributes, price range, etc. You can indicate any criteria via the advanced product assignment mechanism and only those products matching your criteria will display the modules.
Also, any module can be selectively activated per device (desktop/tablet/phone), customer login status and other criteria. Imagine the possibilities.
Stock:

In Stock

Model:

OZ-V81-V6GSBO6

Weight:

1.20

SKU:

OZ-V81-V6GSBO6