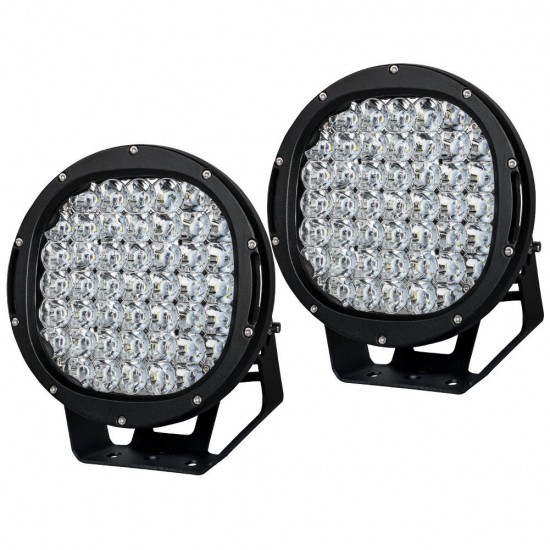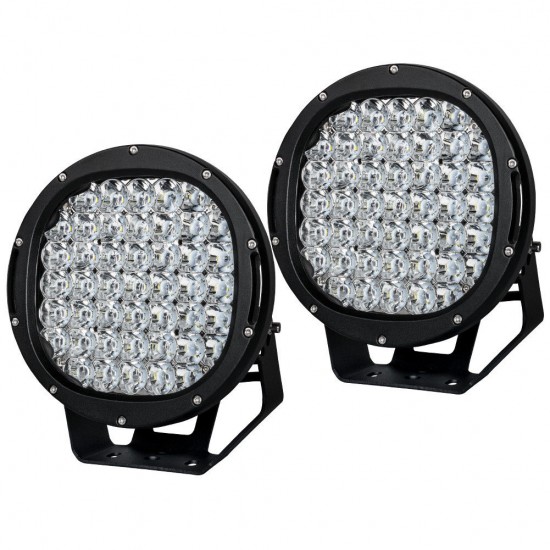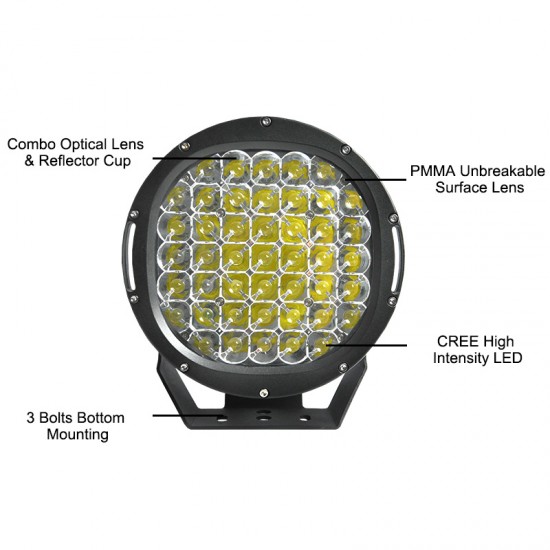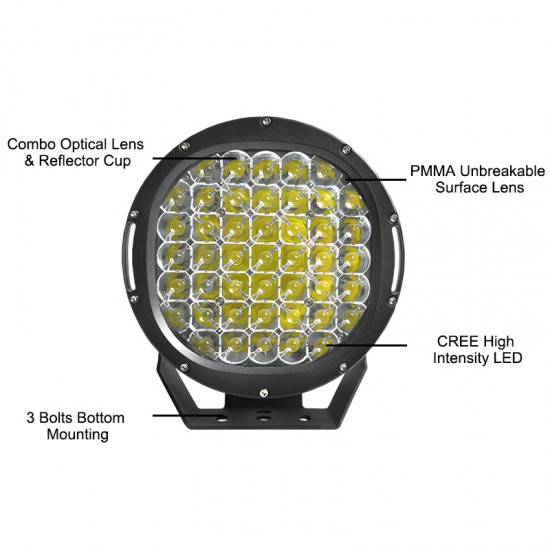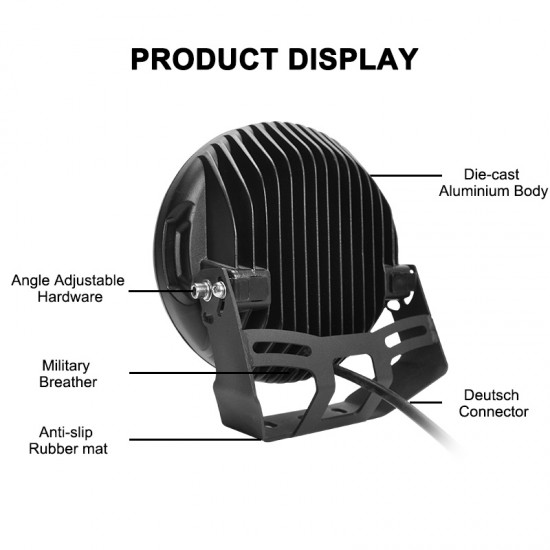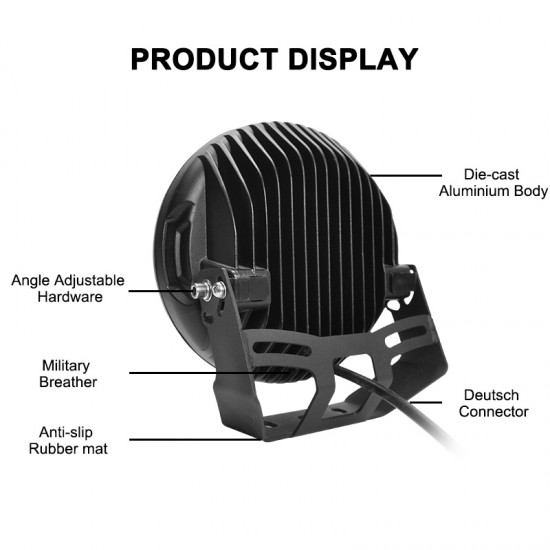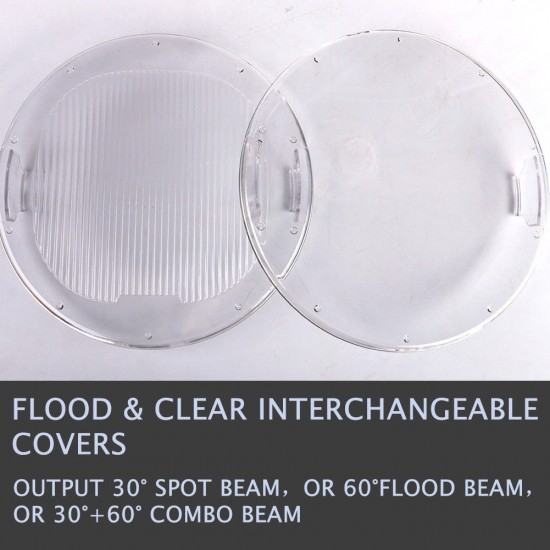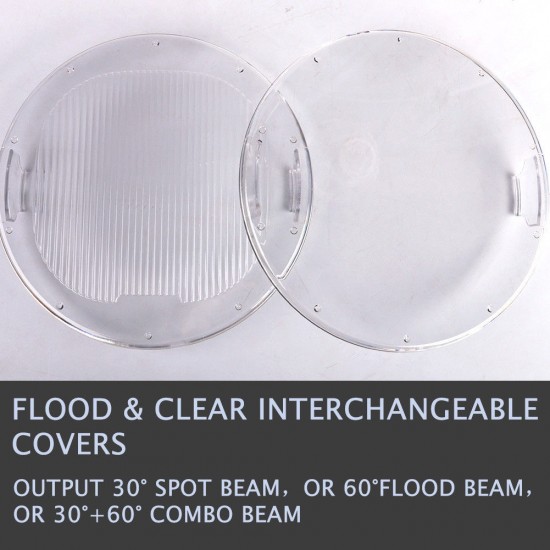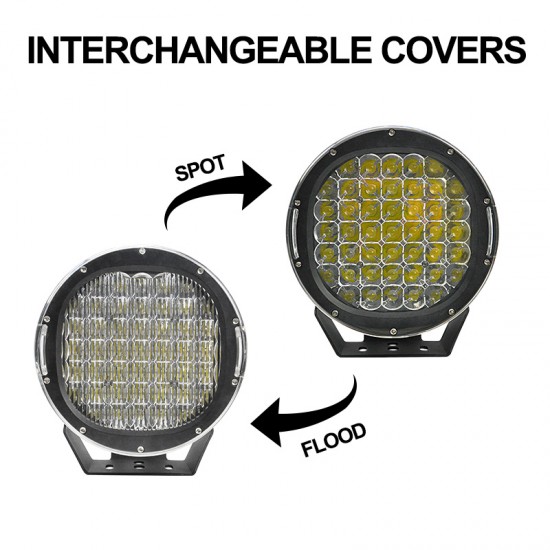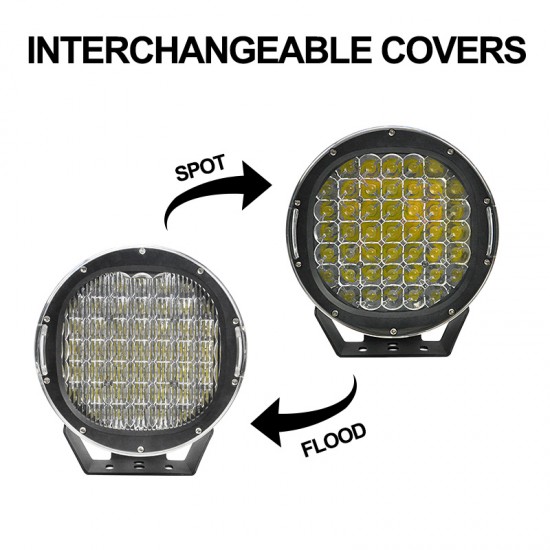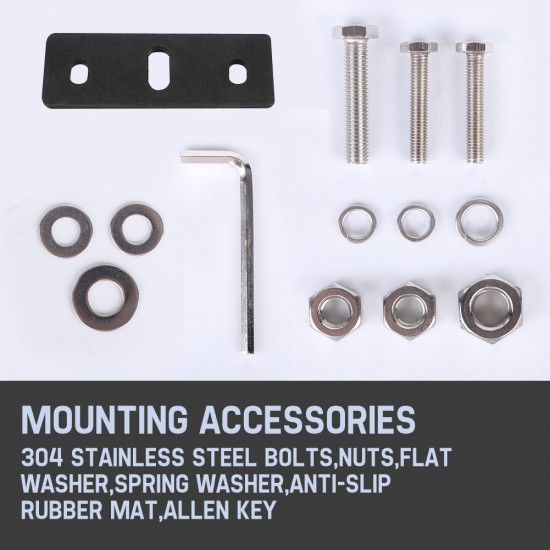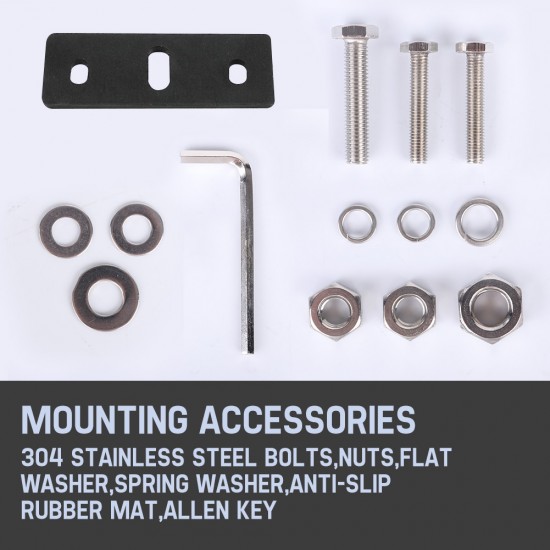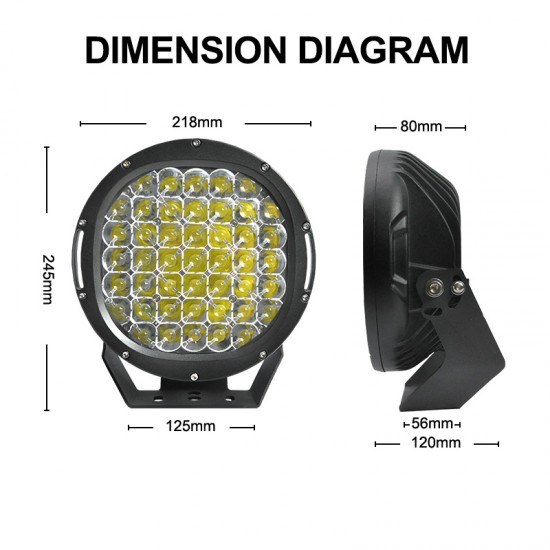 9 inch 225W CREE ROUND LED SPOT Driving Lights Off Road Spotlights BLACK
     _x000D_
Apply to different kinds of vehicles, as fllows
_x000D_      _x000D_
Off-road: cars,suv,pick up,ATV,UTV,truck etc
_x000D_      _x000D_
Specialized: Fire engine,police cars,rescue vehicle,communication vehicle, military command vehicle
_x000D_      _x000D_
Engineering: Excavator,dozer,road roller,bulldozer,crane and mining truck etc
_x000D_
_x000D_
     _x000D_
Adopt 45pcs original CREE led chips,much lower light fades rate,high power,more bright
_x000D_      _x000D_
New generation, combined high light transmision optical lens with traditional deep reflector cups
_x000D_      _x000D_
30° Spot beam, 900m valid irradiation distance, professional designed for off road driving
_x000D_      _x000D_
Additional protective covers to make the lights a even longer life
_x000D_      _x000D_
Extra interchangeable flood covers will provides a wider vision if you need
_x000D_      _x000D_
90° Angle adjustable firm mounting hardware,easy to fit for bullbar or roof racks
_x000D_      _x000D_
3 stainless steel bolts bottom mounting,solid
_x000D_      _x000D_
Additional anti-slip rubber mat, to keep stable, and will protect your cars
_x000D_      _x000D_
Free premium completed wiring harness kit, DEUTSCH connector,easy installation
_x000D_      _x000D_
3mm Unbreakable toughened PMMA lens
_x000D_      _x000D_
Oversized groove heat sink fins,ultra efficient heat elimination
_x000D_      _x000D_
High-grade anti-corruption full die-casting aluminum housing
_x000D_      _x000D_
IP68 rated waterproof ,dustproof and quakeproof for extreme environment
_x000D_      _x000D_
It does not require time to warm up,and performs brilliantly on corrugated roads
_x000D_      _x000D_
50000+ hours long life span
_x000D_
_x000D_
_x000D_
_x000D_ _x000D_ _x000D_
             _x000D_

LED Power(Pair):

_x000D_              
_x000D_
             _x000D_ _x000D_              
_x000D_ _x000D_ _x000D_
             _x000D_

Theoretical Lumens Output(Pair):

_x000D_              
_x000D_
             _x000D_ _x000D_              
_x000D_ _x000D_ _x000D_
             _x000D_

Operating Voltage:

_x000D_              
_x000D_
             _x000D_

9-32V DC

_x000D_              
_x000D_ _x000D_ _x000D_
             _x000D_

Waterproof Rate:

_x000D_              
_x000D_
             _x000D_

IP 68

_x000D_              
_x000D_ _x000D_ _x000D_
             _x000D_

LED Type:

_x000D_              
_x000D_
             _x000D_

90pcs CREE chips per pair

_x000D_              
_x000D_ _x000D_ _x000D_
             _x000D_

Option Ring Color:

_x000D_              
_x000D_
             _x000D_

Black / Red

_x000D_              
_x000D_ _x000D_ _x000D_
             _x000D_

Color Temperature:

_x000D_              
_x000D_
             _x000D_

6500K

_x000D_              
_x000D_ _x000D_ _x000D_
             _x000D_

Material:

_x000D_              
_x000D_
             _x000D_

Diecast aluminium housing

_x000D_              
_x000D_ _x000D_ _x000D_
             _x000D_

Lens Material :

_x000D_              
_x000D_
             _x000D_

PMMA

_x000D_              
_x000D_ _x000D_ _x000D_
             _x000D_

Life Span:

_x000D_              
_x000D_
             _x000D_

50000+hours

_x000D_              
_x000D_ _x000D_ _x000D_
             _x000D_

Beam Type:

_x000D_              
_x000D_
             _x000D_

SPOT(30°) or COMBO(30°+60°)

_x000D_              
_x000D_ _x000D_ _x000D_
             _x000D_

Size:

_x000D_              
_x000D_
             _x000D_

9 inch

_x000D_              
_x000D_ _x000D_ _x000D_
             _x000D_

Demension(W×D×H)with brakcets:

_x000D_              
_x000D_
             _x000D_

218×120×245 mm/8.6*4.72*9.64 inch

_x000D_              
_x000D_ _x000D_ _x000D_
             _x000D_

Mounting Brackets:

_x000D_              
_x000D_
             _x000D_

Adjustable & Durable Steel Brackets

_x000D_              
_x000D_ _x000D_ _x000D_
_x000D_
Package includes:
_x000D_
     _x000D_
2x 9" Black Spotlights
_x000D_      _x000D_
2x Protective Covers
_x000D_      _x000D_
2x Flood Covers
_x000D_      _x000D_
1x Wiring Harness Kit
_x000D_
_x000D_
Warranty Conditions:
_x000D_
Unless otherwise stated, we offer a 12 month warranty on all products from the date of purchase. It cannot be excluded under the Australian Consumer Law. The warranty period for commercial use is 3 months.
_x000D_
You are entitled to a replacement or a full refund for a major failure of our product. You are also entitled to have goods repaired or replaced if the goods fail to be of acceptable quality.
_x000D_
Our warranty cover does not include damage caused by normal wear and tear, accidents, misuse, neglect, and lack of maintenance, use of incorrect voltage, power surges, voltage supply problems, tampering or unauthorised repairs by any persons, use of defective or incompatible accessories, natural disaster, or other external causes; to damage caused by operating the equipment in a manner outside that described in the instructions.
Unlimited Blocks, Tabs or Accordions with any HTML content can be assigned to any individual product or to certain groups of products, like entire categories, brands, products with specific options, attributes, price range, etc. You can indicate any criteria via the advanced product assignment mechanism and only those products matching your criteria will display the modules.
Also, any module can be selectively activated per device (desktop/tablet/phone), customer login status and other criteria. Imagine the possibilities.
Stock:

In Stock

Model:

OZ-V13-L1010G-B*2

Weight:

0.00

SKU:

OZ-V13-L1010G-B*2